Conference Rooms
Beautifully located on the river Main- the Conference Hotel Höchster Hof welcomes all guests!
Our Conference Hotel Höchster Hof is the ideal location for seminars, conferences, training courses or workshop due to its modern conferencing facilities. The five conference rooms can be set-up in various styles and accommodate up to 300 delegates in total. The biggest conference room is 156 m², with a picturesque view of the river Main as a special highlight.
In addition to this, all conference rooms feature modern technical equipment, for example an LCD projector.The rooms have blackout blinds and the set-up can be individually varied as requested by the organiser of the conference or meeting. We offer several attractive conference packages including delegate rates for weekend seminars.
In addition to the official "meeting points" at the conference area, the hotel features 135 comfortably furnished rooms. Here, delegates will enjoy some well-deserved rest after a successful working day.
Relax in pleasant surroundings: All rooms are equipped with bath tub/ shower and WC, satellite TV, radio, direct dial telephone and Wi-Fi.
A rich breakfast buffet is included in the room rate, as well as daily newspapers and Wi-Fi.
Parking your car is no problem as there are sufficient car parking spaces nearby. At the hotel car park, situated next to the hotel, a fee applies. Another car park is directly on the river Main, just a 5 minute walk from the hotel. The historic town centre and many sights, for example Höchst Castle, Justinuskirche and the famous HöchsterPorzellanmanufaktur (porcelain factory), are also just a short stroll away.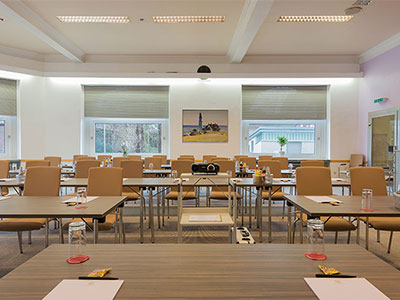 Conferenc Room Mainblick
daylight/ blackout blinds/ no air conditioning unit
L13m / B 12m / H 4m /
Size 156m²
Conference Set up Styles:
Theatre Style: 60
Boardroom Style: 40
U-Shape Style: 40
Classroom Style: 60
Circle of Chairs: 40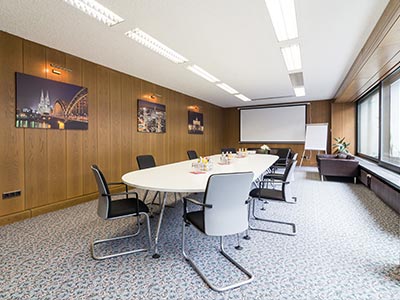 Conference Room  Höchst
Natural daylight/ blackout blinds/ no air conditioning uni
L 14m / B 4,5m / H 3,5m
Size 63m²
Conference Set up Styles:
Theatre Style: 40
Boardroom Style: 20
U-Shape Style: 20
Classroom Style: 40
Circle of Chairs: 20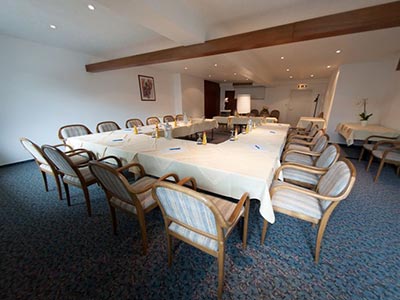 Conference Room  Bolongaro
Natural daylight/ blackout blinds/ no air conditioning unit
L 12m / B 7m / H 2,5m
Size 84m²
Conference Set up Styles:
Theatre Style: 40
Boardroom Style: 30
U-Shape Style: 30
Classroom Style: 32
Circle of Chairs: 20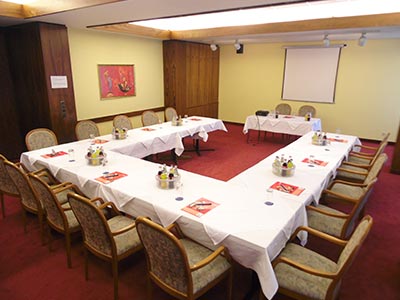 Conference Room  Justinus
Natural daylight/ no air conditioning unit
L 8m / B 7m / H 3m
Size 56m²
Conference Set up Styles:
Theatre Style: 40
Boardroom Style: 20
U-Shape Style: 20
Classroom Style: 40
Circle of Chairs: 20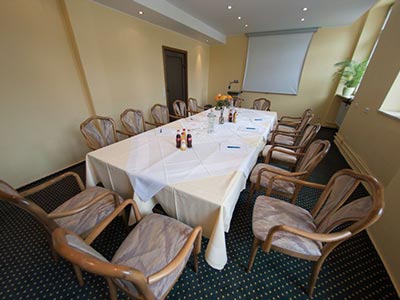 Conference Room  Schiller
Natural daylight/ blackout blinds/ no air conditioning unit
L 8m / B 6m / H 2,5m
Size 48m²
Conference Set up Styles:
Theatre Style: 25
Boardroom Style: 16
Classroom Style: 10
Circle of Chairs: 6
Conference Equipment
Flip Chart
Pin Board
Moderation Kit
TV
CD Player
Screen
LCD Projector
Wi-Fi Internet Connection
Whiteboard
Microphone
Standing desk